49ers off-season review
14 August 2008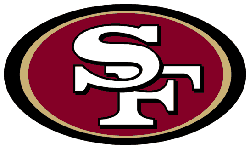 Time for my review of the
San Francisco 49ers
off-season. I suppose I've got to start with the fact that we've still got Mike Nolan at the helm AND Alex Smith at QB, at the end of last season I didn't expect to be able to say that. I thought one or even both of them would have been moved on. With Nolan declaring an open QB competition this year it worries me that Alex Smith is no longer the QB of the future for the 49ers and we don't seem to have a backup plan. Apart from a few glimpses when Norv Turner was the OC I'm yet to see Alex Smith play like the No. 1 overall pick he is.
However this brings me nicely onto possibly the most interesting acquisition during the off-season.... Mike Martz. He's known as an offensive genius that was partly responsible for the "Greatest Show on Turf" in St. Louis and while the Detriot Lions didn't make much of an impact with him at OC he did improve the production of their offense. Maybe Martz can get the best out of Alex Smith who, to be fair, has now had a fair few OC's in his short NFL career. Hopefully Martz won't do the same as in Detriot, improve the passing game but at the expense of the running game. Our running game has been the one bright spot of the offense the past 2 years and with the addition of Deshaun Foster we have a very capable backup/alternative to Frank Gore. I'm hoping Martz will use Gore like he did with Marshall Faulk in St. Louis as a pass catching RB, Gore definitely showed this was a part of his game last year.
We also acquired Justin Smith, the DE from Cincinnati and signed him to a big contract. I've not seen that much of him really so I'm hoping he lives up to the contract we've given him. Hopefully he'll provide an upgrade to our pass rushing ability. The most recent addition is Takeo Spikes at LB, who seems like a good fit for us. He should hopefully take some of the pressure off Patrick Willis, last years NFL Defensive Rookie of the Year.
Last year the defense performed quite well overall, it was just the offense couldn't produce the goods when they had the ball. I'm hoping for an an even better year from the defense with the additions we've made. Any improvement from the offense this year would be very welcome!
I'm not expecting a run into the playoffs this year but I'm looking for some sign the team's moving in the right direction.